Meals that offer
a taste of seasonal ingredients

We offer meals prepared with the perfect local ingredients produced amid a great expanse of nature, like Hida beef and fresh char carefully selected under the strict supervision of our head chef. Enjoy seasonal cuisine with the flavor brought right out to the fullest. Seasonal menus are also available.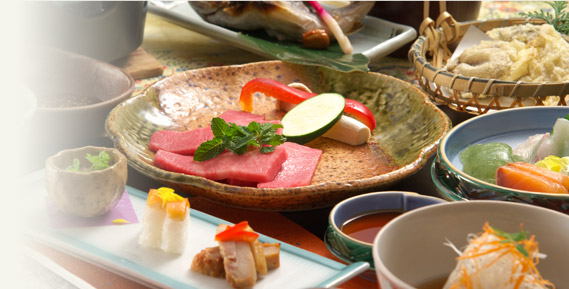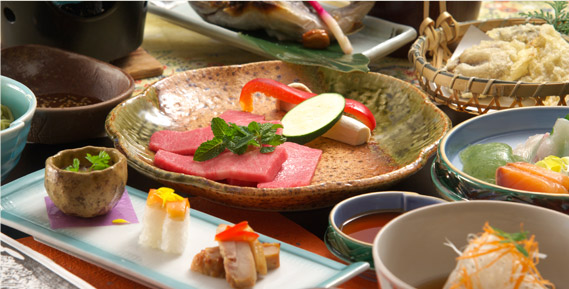 A breakfast
that's gentle on the body

Start your day with a delicious breakfast.
With good health in mind, we have applied a Hotaka-style twist to the nutritious, traditional Japanese breakfast to create a morning meal that's both delicious and gentle on the body. This breakfast only served here is simply not to be missed.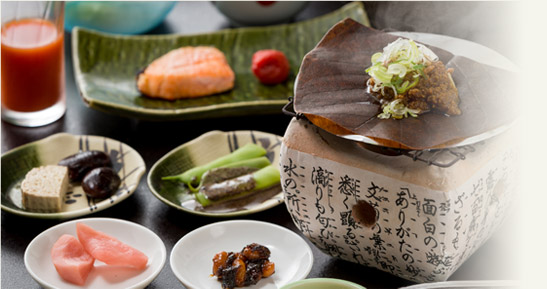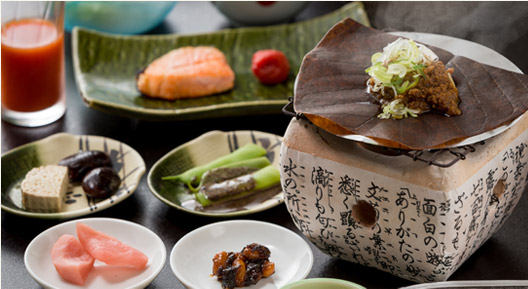 There are open-air baths featuring two different types of water quality: sulfur hot spring and colorless, transparent, smooth hot spring. Ample volumes of water flow, enabling body and mind to be healed in the continuously free-flowing natural hot springs.
The spring quality is simple sulfur spring.
Just as with the open-air bath, the indoor bath is also continuously free-flowing, and its sulfur aroma further enhances the hot spring atmosphere.
Reservation is possible for family and couples etc.
In addition, the bath is also available for visitors who require the assistance of a caregiver. Please don't hesitate to inquire at front desk.


(Same-day reservation only / paid)


Japanese-style room with open air bath

Two rooms connected to form a large one are great for relaxed family stays. You can enjoy the hot spring in the en-suite open-air bath anytime you wish

Room Data

Capacity

9

Room size

18㎡+22㎡

(serial rooms)

Equipment/
Amenities

Wi-Fi available
Hand towels / body soap / hair dryer / toilet / toothbrushes and toothpaste / soap / comb and hair brush / bath towels / yukatas / razor / shampoo

Western-style room with open air bath

An elegant Western-style room facing the mountains of the Alps, with an open-air bath. Experience a touch of class and quality to your trip with loved ones as a couple, family etc.

Room Data

Capacity

3

Room size

42㎡

Equipment/
Amenities

Wi-Fi available
Hand towels / body soap / hair dryer / toilet / toothbrushes and toothpaste / soap / comb and hair brush / bath towels / yukatas / razor / shampoo

DX twin room

With more space than the standard room, this room is also suitable for families.
Enjoy an extraordinary space with natural views and stillness.

Room Data

Capacity

3

Room size

42㎡

Equipment/
Amenities

Wi-Fi available
Hand towels / body soap / hair dryer / toilet / toothbrushes and toothpaste / soap / comb and hair brush / bath towels / yukatas / razor / shampoo

DX double room

A modern Japanese-style space with a chic and tranquil atmosphere.
Enjoy a comfortable space where you can relax with your special someone.

Room Data

Capacity

2

Room size

14㎡

Equipment/
Amenities

Wi-Fi available
Hand towels / body soap / hair dryer / toilet / toothbrushes and toothpaste / soap / comb and hair brush / bath towels / yukatas / razor / shampoo

Japanese-style room (18㎡ or 22㎡)

A relaxing Japanese-style room with the calming aroma of wood.
Feel a charm and sense of time that you cannot experience in the city.

Room Data

Capacity

5 (18㎡) or 6 (22㎡)

Room size

18㎡ or 22㎡

Equipment/
Amenities

Wi-Fi available
Hand towels / body soap / hair dryer / toilet / toothbrushes and toothpaste / soap / comb and hair brush / bath towels / yukatas / razor / shampoo

Twin room

Our hotel's standard twin room. From a large window that lends the room a sense of space, you can enjoy the wonderful seasonal views.

Room Data

Capacity

3

Room size

21㎡ - 23㎡

Equipment/
Amenities

Wi-Fi available
Hand towels / body soap / hair dryer / toilet / toothbrushes and toothpaste / soap / comb and hair brush / bath towels / yukatas / razor / shampoo

The front desk and lobby are bright and spacious. From the lobby windows, you will catch a majestic view of the Northern Alps. Delight in a relaxation that's as if time were standing still. The cafe is also available for a break. All of us here at Hotel Hotaka will welcome you with smile.

【Cafe area opening hours】7:00 to 20:30